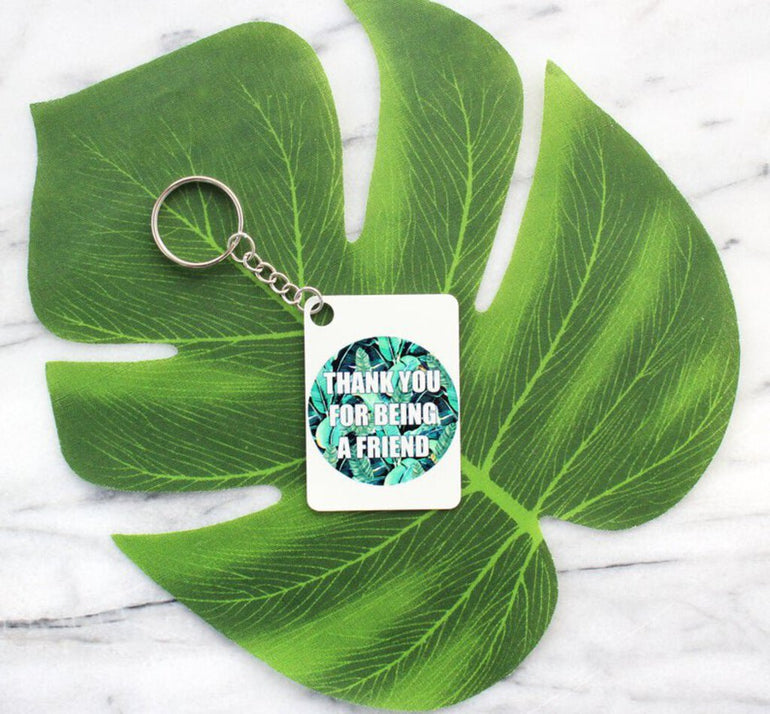 "Thank You for Being a Friend" Plant Keychain
ARTISAN ACCESSORIES FEMME
Description

Store Policies

Put an item on Hold
Thank you for being a friend.

Get your 80s nostalgia on -- and a little extra incentive to keep up with your keys -- with this keychain featuring the lyrics to the Golden Girls theme song set on a tropical leaf background.

Features:
-Lightweight, durable aluminum
-Measures 2.25x1.625 inches
-Permanent sublimated image

About the process:
All Guy Piper keychains are made using original designs. The design is digitally drawn and converted to a sublimation transfer, then applied to each individual keychain by hand using a heat press.
How to Hold Items to Try On In Store

We HOLD ITEMS for 24 hours by request for in store try ons. A great option for local customers!

TEXT US at 434-202-0664 to reserve an item for 24 hours to try on in store! 
[[ Hold limit: 8 items ]]

You can also text us to request items measurements or other item details!

We will respond to all requests during our business hours.
"Thank You for Being a Friend" Plant Keychain
Shop Artisan Finds
Check out the newest jewelry, beauty products, homewares, prints, & more from our artisan vendors!