Consign With Us
We are a high end consignment boutique that curates the best of the best of secondhand. Darling is curated for a feminine aesthetic, and Dashing is curated for a masculine aesthetic.
We accept like-new contemporary brands, luxury designer labels, and stylish, funky vintage in excellent condition.

All consignment intake is done by appointment only Tuesday-Friday.
We curate a range of great pieces, styles, and sizes at prices for all of our customers. We know our award-winning consignment will be the perfect fit for you!
Please read through the entirety of our consignment process + terms to ensure you bring us ready-to-sell, high quality items!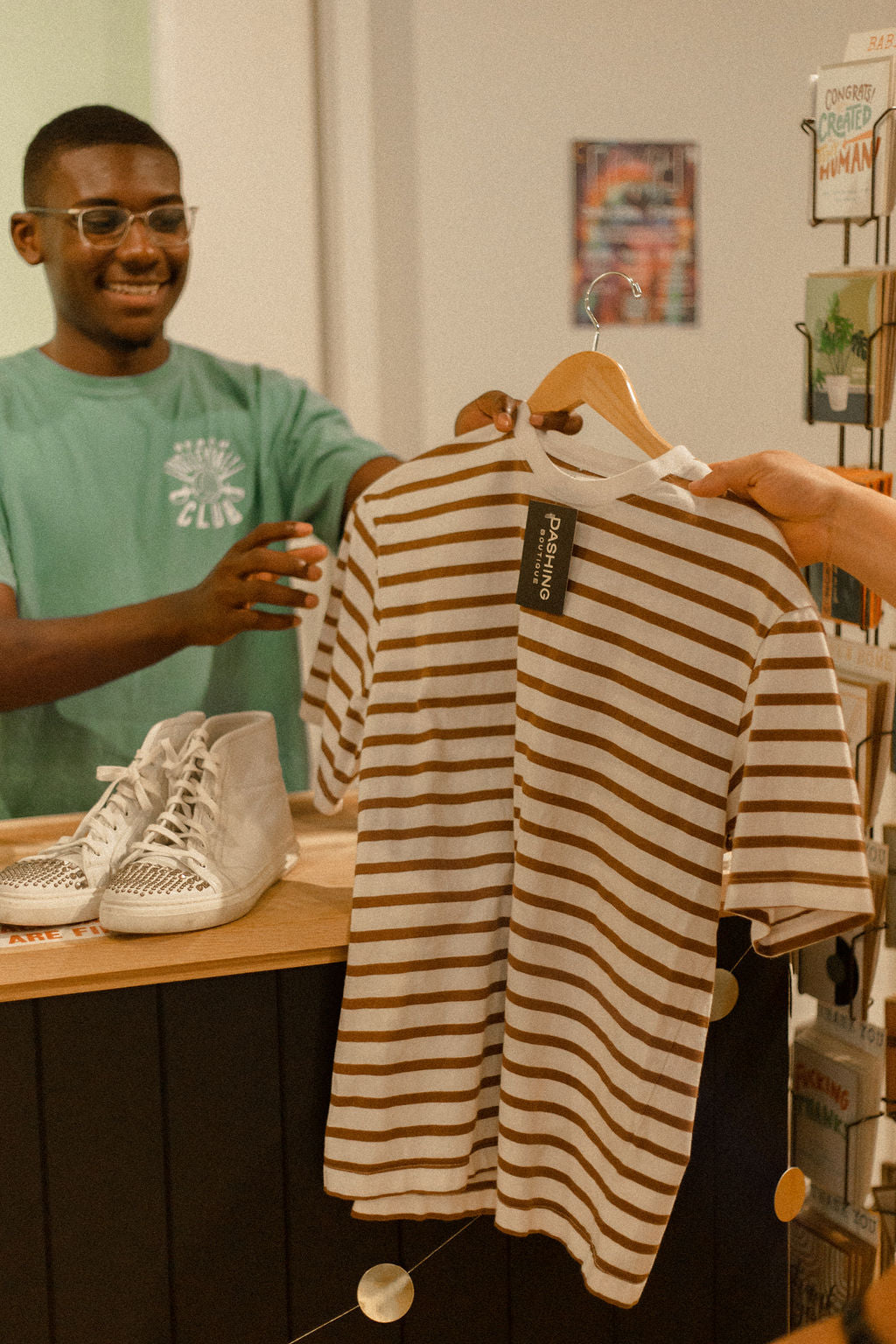 Consignment FAQS
Learn more about our consignment process below to ensure you are bringing us what our customers love!
The Basics: How it Works
How does it work?
All consignment intake is done by appointment only. We accept consignment Tuesday-Friday weekly.
We price items at approximately 30-60% of their original value, taking in to consideration their condition, style, and potential for resale.

The consignment cycle is 60 days. After 45 days, items are sold at 50% off.

At the end of the 60 days, all unsold items will be donated to a charity of our choice or used for store promotions. Consignors can also select to have unsold items returned.

As a consignor, you will have access to a consignor portal to view your inventory, balance, and set up direct deposit for payout. OR, you can shop at any time and use your balance as store credit!
Do you offer in-person or drop-off appointments?
Both! We have 3 Appointment Types:
1. In Person -- 30 items MAX
2. Drop Off  -- 60 items MAX*
3. Express -- 5 items or less
These appointments are available for each shop -- Darling and Dashing. Masc items and femme items should be brought in separately.

In Person = We review on the spot and return items we do not accept to sell.

Drop Off = We do not go through items on the spot, and items we do not accept to sell are automatically donated. 
We may accept mail in consignment by special request.*
(* = requires virtual pre-screening of all items for booking approval)
What kinds of items do you take?
Our customers love on trend, fun pieces, timeless staples, funky vintage, and luxury designer gems in excellent condition.

WE ACCEPT ALL ADULT SIZES. We strive for diverse size representation. That means we accept plus size as well!

We also take maternity.

Contemporary Brands We Love*
& Other Stories | American Eagle | Anthropologie | ASOS | Athleta | Banana Republic | Blank NYC | Free People | Frye | Ganni | Gap | H&M | J. Brand | J. Crew | Joe's | Levi's | Lilly Pulitzer | Loft | Lucky Brand | lululemon | Madewell | Mara Hoffman | Nike | Old Navy | Ralph Lauren | Reformation | Seven for All Mankind | Sezane | Target | Topshop | Urban Outfitters | Zara

Designer Labels We Love*
Alex Mill |  Alexander Wang | Alice + Olivia | All Saints | Autumn Cashmere | Barbour | Baum Und Pferdgarten | BCBG Max Azria | Bonobos | Burberry | Chanel | Chloe | Coach | Christian Louboutin | Diane Von Furstenberg | Dior | Frame | Givenchy | Gucci | Helmut Lang | Hermes | Isabel Marant | Jimmy Choo | Kate Spade | Loeffler Randall | Louis Vuitton | Marc Jacobs | Michael Kors | Missoni | Miu Miu | Oscar De La Renta | Prada | Rag & Bone | rebecca minkoff | Stuart Weitzman | Tibi | Tory Burch | Theory | Ulla Johnson | Valentino | Velvet by Graham and Spencer | Versace | Vince | YSL | Zimmerman
Luxury goods may require authenticity.
*This is not a complete list, just suggested brands.
What don't you take?
We do not take secondhand costume jewelry.
Instead, we showcase locally made jewelry in the shop. We will make exceptions for luxury designer jewelry with authentication.

We do not take:
basic professional officewear
undergarments -- i.e. bras, underwear, shapewear, socks, tights*, etc. (* = We will take socks/tights that are brand new in the original packaging.)
swimsuits
scrubs
wedding gowns
costumes
or wigs. 
We don't take a lot of Tablots, J. Jill, or Chico's, but since all intake is based on style, we do make exceptions.

While we'd love to take each and every item, items are carefully selected based on style and condition.
What's your seasonal intake schedule?
Please make sure all items are in season. The seasonal intake schedule is as follows:
August - October | Fall;
October - January | Winter;
February - April | Spring;
April - July | Summer.
The Important Shit
What condition should my items be in?
Items should be in excellent, like-new condition.
We have high standards for what we'll take. Pre-screen your items and ensure they are in ready-to-sell condition. We're not Goodwill. :)

At the time of the appointment, all items must be:
Freshly laundered or dry cleaned (depending on garment care requirements)
Free of holes, pilling, broken zippers, missing buttons, odors, or stains.
Absolutely no pet hair will be tolerated.
Neatly folded in bags, bins, or boxes (no hangers).
Shoes must be paired together neatly (no shoeboxes).

No exceptions!
How many items can I bring?
Due to capacity, we set standards for item limits on our appointment calendar. 

Please be considerate of the item limits we list clearly on the appointment times and do not exceed those limits! 
With 50+ appointments a week, we appreciate you respecting our need to keep things at a reasonable capacity and appointments kept in a timely manner. 
How does payment work?
There are 2 options for payment: store credit or direct deposit (SimplePay)*.

1. If the balance is used as store credit, the consignor will receive 50% of the selling price for their items.

2. If the balance is paid out as direct deposit, the consignor will receive 35% of the selling price for their items.

[*SimplePay payouts are issued once a week on Wednesdays upon request. There is a $2.50 processing fee for direct deposit payouts. View the SimplyPay User Guide for more information.]

Consignors are responsible for requesting a payment be issued. Just give us a call, email, or stop in and ask!
Consignors have one year from the date of sale to request payment for any balance on their account. After one year, balances expire, per our consignment agreement.
Can I get my items back?
Absolutely! If a consignor would like to pick up unsold items, they will communicate that at their appointment.
At the end of the 60 days, all unsold items are pulled - but NOT before then.
After the consignment cycle ends, consignors will be contacted via email AND text that unsold items are ready for pick up. They have ONE week to pick up returned items befoe we donate. 
What's your No Show / Cancellation policy?
Appointments can be rescheduled or cancelled by the consignor up to 12 hours before the appointment. In the 12 hour window, please contact us to cancel or reschedule.

No call/no shows will be charged a $5 fee by the end of the appointment's business day if we do not hear from you. If you are unable to make your appointment and need to reschedule or cancel, please call us. We'll call you if you miss to try to reschedule with you. If we hear from you, no fee will be charged. Communication is a lovely thing.

We require a credit card for reserving your appointment to be able to process this fee. You can save your card easily by creating a profile when scheduling for easy future scheduling; but it is not required.
Why is approval required for a drop-off appointment?
We are not a donation processing center. While we love to offer the convenience of a drop-off appointment for consignors, we also require items be pre-screened for approval of intake. We want your BEST, ready-to-sell, like-new items. If you can guarantee quality, we can guarantee a drop-off.
What if I have luxury items?
Luxury designer items (i.e. Gucci, Louis Vuitton, Chanel, etc.) priced over $1,000 will be granted a higher profit split for payout.
Luxury items priced over $1,000 will be given a 50% split for direct deposit AND store credit, instead of the normal 35% for direct deposit.
Questions about consigning luxury items with us? Email us to talk with our Inventory Team!
Other Helpful Things
Where can I park or pull up to bring items in?
You can easily pull up on Water Street or 1st Street right out front of the shop to unload your items.
Pay parking is available across the street in the Water Street lots, as well as free street parking.
First hour is free in the Water Street garage!
Do you take home decor? Kids?
We do NOT accept kids on consignment.
We do NOT accept home decor or furniture on consignment.
We are strictly a clothing consignment shop for adult sizes.
Ready to consign?
Head to our Book an Appointment page!
During that process, you will read through our consignment agreement terms and virtually sign the contract.

Still have questions before booking your appointment? Reach out!
We're happy to answer any questions before you book.
Book an Appointment
Contact Us