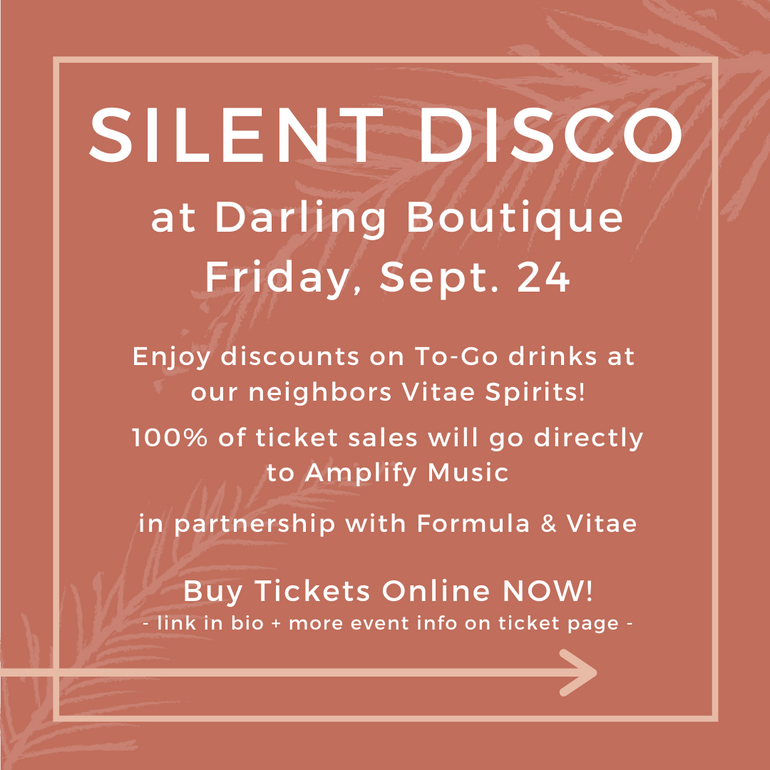 Silent Disco - Amplify Music Fundraiser Event Ticket
Tickets
Description

Store Policies

Put an item on Hold
Tickets now available for our SILENT DISCO Fundraiser for
Amplify Music
!
WHAT: Silent Disco Fundraiser for Amplify Music
WHEN: Friday September 24th
WHERE: Darling Boutique
TIME SLOTS / TICKET PRICES: 

7-8pm (first hour) - $10 per ticket
8-9pm (second hour) - $10 per ticket
7-9pm (all night!) - $20 per ticket
100% of ticket sales will be donated to the organization.
ABOUT THE ORGANIZATION: Amplify Music provides support and healing for individuals affected by the carceral systems through the joy of musical creation and performance.
Ticket price includes exclusive access to after hours shopping, use of Silent Disco headphones, and access to to-go drink discounts at our neighbors, Vitae Spirits! 
Tickets are required for all guests.
How to Hold Items to Try On In Store

We HOLD ITEMS for 24 hours by request for in store try ons. A great option for local customers!

TEXT US at 434-202-0664 to reserve an item for 24 hours to try on in store! 
[[ Hold limit: 8 items ]]

You can also text us to request items measurements or other item details!

We will respond to all requests during our business hours.
Silent Disco - Amplify Music Fundraiser Event Ticket
Shop Artisan Finds
Check out the newest jewelry, beauty products, homewares, prints, & more from our artisan vendors!