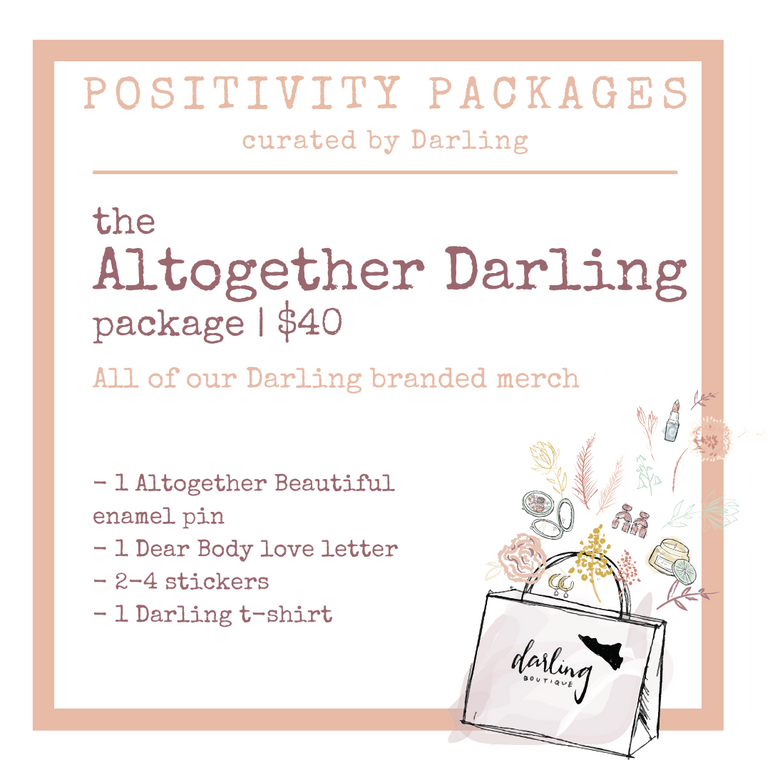 Positivity Package: "Altogether Darling"
POSITIVITY PACKAGE
Description

Store Policies

Put an item on Hold
Featuring all of our Darling branded merchandise!
The Package Could Include: 1 "Altogether Beautiful" enamel pin + 1 "Dear Body" love letter + 2-4 Darling branded stickers + 1 Darling t-shirt!
Please select your t-shirt size and style preference in the pricing variants!
How It Works:
Complete the selections upon purchasing. If it's a gift, you can even leave a note during checkout and process shipping for the recipient to receive. 

We'll creatively curate the package for you or yours truly!

We'll prepare it for curbside pick up OR we'll ship it all cute!
Substitutions may be necessary due to item availability. If you have questions, please contact us before checking out at hello@shopatdarling.com. 
How to Hold Items to Try On In Store

We HOLD ITEMS for 24 hours by request for in store try ons. A great option for local customers!

TEXT US at 434-202-0664 to reserve an item for 24 hours to try on in store! 
[[ Hold limit: 8 items ]]

You can also text us to request items measurements or other item details!

We will respond to all requests during our business hours.
Positivity Package: "Altogether Darling"
Shop Artisan Finds
Check out the newest jewelry, beauty products, homewares, prints, & more from our artisan vendors!